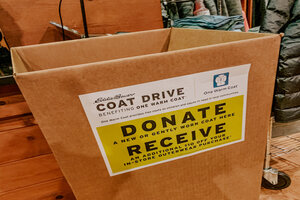 ---
As temperatures started to drop from the 70s to the low 50s, The City Lofts on Laclede team started researching places that accept clothing donations. We found One Warm Coat, an organization that reaches across the country with the sole purpose of proving free coats to people who need them.
As stated on their website, they are "the only national organization supporting coat drives!" One Warm Coat accepts donations of coats, jackets, sweatshirts, and garments such as gloves and hats. As they will be given to people in need, the donated items need to be cleaned, lightly worn, and without holes or stains!
We received a handful of donations from some generous residents. The closest donation site was at the Eddie Bauer store in the St. Louis Galleria Mall. Donating was a breeze. If you ever plan to donate to One Warm Coat, you can most likely received a 10% off discount at a participating Eddie Bauer store! Our participating residents were up to win an oscillating heater tower!