Tips For Students Living In St. Louis
St. Louis is a major city in Missouri that comprises 91 municipalities. One can easily divide the city into four regions, including St. Louis City, the Suburbs, Beyond 1-270 and Beyond St. Louis County. For the purposes of this guide, we will analyze multiple different areas within the city:
Central West End. Known for being both sophisticated and understated, Central West End is home to many well-known restaurants and art galleries in St. Louis.
Shaw. A quiet neighborhood of tree-lined streets and large, early 20th-century homes surrounded by green spaces, such as the Missouri Botanical Gardens.
Washington Avenue Loft District. This neighborhood is located downtown and characterized by lofts of many different sizes and shapes. No matter where you are in the Loft District, there's a local sports venue nearby.
Lafayette Square. A beautiful and elegant part of the city, Lafayette Square offers views of Victorian-style houses and a huge park with large, established trees.
Soulard. Multiple rows of houses and sidewalks in this area feature a vibrant, red brick composition. Soulard also has one of the oldest open-air markets in the United States.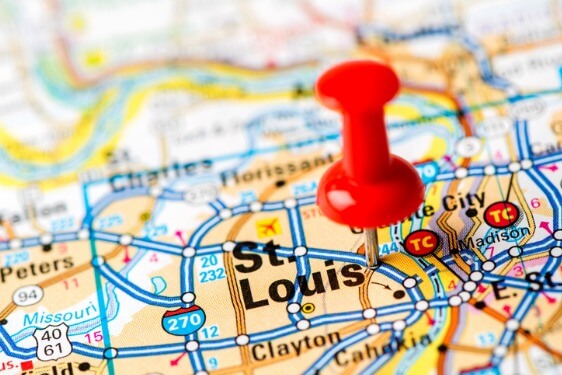 What Are The Best Restaurants In St. Louis?
Whether you are a busy student who doesn't have time to cook or you just enjoy eating out, St. Louis offers a wide variety of food spots to choose from. If you enjoy Mexican food, try Diablitos Cantina. Those who have specific diet restrictions will enjoy Crazy Bowls & Wraps, which serve both vegan and vegetarian dishes. The Fountain On Locust is another favorite and offers sandwiches, soups, homemade soda, and pretzel cones.
Where Can I Exercise?
There are plenty of ways you can get the exercise that doesn't involve completing the same routine every day. St. Louis is home to numerous parks and green spaces that are not only beautiful but also perfect for hiking and jogging. Forest Park is ideal for biking or running. You can also go for a run at Creve Coeur Lake Memorial Park, where jogging trails extend through the woods and wrap around the lake.
What Should I Do To Become Friends With My Roommate?
Unfortunately, there is no guarantee that you will become best friends with your roommate. However, when you live with someone, you will spend the majority of your time in a shared space. If you get along with your roommate, your St. Louis apartment will be more comfortable and you can potentially build a lifelong connection. Begin by starting off on the right foot. When you both move in, make the effort to get to know your roommate by going out for ice cream or by exploring your new city together. You can also try to spend time in common areas, which will increase the number of interactions between you and your roommate.
Where Is The Best Place To Meet People In St. Louis?
It can be overwhelming to move to a new city, especially if you don't know anyone who lives there, but don't worry. As a student, you will be surrounded by other people who are your age that are also looking for friends. Begin by taking advantage of your classes. You will be spending every day with the same people, so don't be afraid to initiate a conversation with those surrounding you. You can also join a club or sport. Not only will you find other students with similar passions, but you'll also have more activities to add to your resume.
Do I Have To Purchase Renters' Insurance?
When residents sign a contract for our St. Louis student apartments, they have the option to choose whether or not they want renters' insurance. It may be tempting to save money and not purchase this safeguard, but we advise that residents be aware of the consequences. If there is a burglary, fire, flood or other natural disaster, your landlord will not be responsible for your losses. You will have to pay to replace your possessions yourself. Instead, you may want the security you get from knowing you are covered in worst-case scenarios.
What Are The Best Ways To Get Around St. Louis?
Ideally, students will want to choose apartments near campus so they can walk to class. However, for those that live farther away from campus or who aren't students,  the MetroLink is a great way to great around the city. With a variety of metro lines as well as bus stops available, it's easy to make it around the city, even if you don't have a car or other form of transportation available. Even better, for those that prefer biking around the city, Metro Transit allows passengers to bring a bike onboard.
Where In St. Louis Should I Take My Family When They Visit?
When your family comes to visit, you will want to show off all that St. Louis has to offer. Of course, you will have to show them the sights such as The Gateway Arch, Saint Louis Zoo, Meramec Caverns and the Saint Louis Science Center. If your family enjoys outdoor activities, spend time at Forest Park where you can enjoy an outdoor theatre, paddle boats, golf courses, and hiking trails. Finish the tour off by taking them to your favorite eateries, whether it be BBQ at Pappy's Smokehouse or a nicer meal at The Best Steak House.
What Kind Of Atmosphere Does City Lofts Offer?
The atmosphere found at each St. Louis student living environment varies greatly. While you are touring each of your options, you will want to ask about the kind of atmosphere. For example, City Lofts on Laclede offers a warm, community feel that encourages residents to socialize with one another both within our spacious apartments near Saint Louis University* and throughout our student-centered property. We provide many exciting student living amenities such as a picnic area, game room with pool tables and flat-screen TVs, and a resort-style pool, among additional amenities. What's more, our convenient property location puts students at the heart of the city and just minutes away from campus, so residents are surrounded by their peers. Contact us today to schedule a property tour and to learn more about our student community.
What's The Best Way To Lower My Monthly Utility Bills?
Whether you are a college student or a graduate student, you must learn how to budget your money. High utility bills can keep you from participating in activities that you enjoy, but there are simple tricks you can use to reduce your energy consumption. Unplug all of your electronics when you are not using them. Even if electronics are not turned on, they will still drain energy. You can also adjust your thermostat in your apartment so that it is a couple degrees warmer in the summer and a couple of degrees lower in the winter than your typical setting. Contact us today for more utilities cost-saving tips and tricks!